Rangana Herath to retire after first Sri Lanka vs England Test
Herath "the best left-arm spinner the world has ever seen," says Sri Lanka wicketkeeper-batsman Niroshan Dickwella
Sri Lanka spinner Rangana Herath will retire after the first of three Tests against England in Galle in November.
The 40-year-old, who is 10th on the list of all-time Test wicket-takers with 430 scalps in his 92 games, is the only active cricketer to have made his debut in the 1990s, doing so against Australia in Galle in September 1999.
Herath has taken 99 Test wickets at Galle, and if he takes one more at the venue against England next month, he will become just the third bowler in history to manage 100 on a single ground, after countryman Muttiah Muralitharan and England seamer James Anderson.
Muralitharan achieved the feat at Colombo, Kandy and Galle, while Anderson moved on to 103 wickets at Lord's this summer.
Herath, who has taken 230 of his Test wickets since turning 35, could move up to seventh on the all-time list if he manages five scalps in the Galle Test from November 6, above New Zealand's Sir Richard Hadlee (431), England's Stuart Broad (433) and India's Kapil Dev (434).
Sky Sports expert Nasser Hussain says Herath's exit will leave a big void in the Sri Lanka side – and be a huge boost for England in the final two matches of the series, in Kandy and Colombo.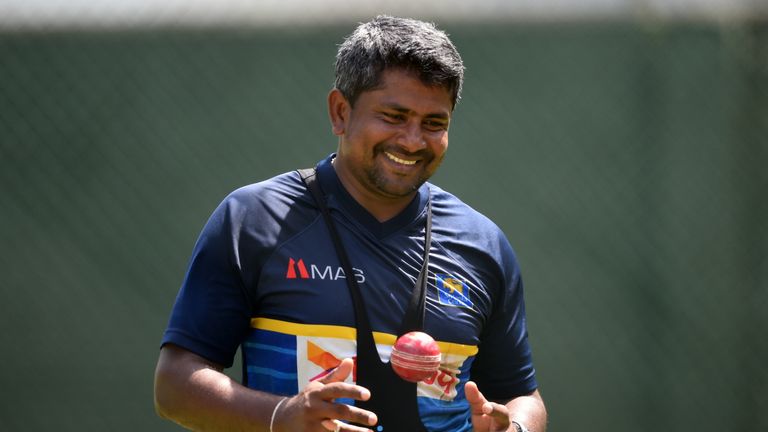 "It's a massive bonus. You are better off being lucky than classy in cricket and that is a key break for England," said the former England skipper. "Sri Lanka have a few good spinners but he is the main threat, make no mistake.
"Since Murali retired, he has got 40 per cent of their wickets in Sri Lanka, so he bowls one end. He is the new Murali basically.
"He has been around forever and is a good, old-fashioned pro. There is no mystery, no doosra, no carrom ball, he doesn't worry about batting or fielding – he just runs up and bowls left-arm spin."
Like so many other Sri Lankan cricketers, Rangana Herath has been an unassuming champion. He filled the large gap that Murali left behind and, as with all top players, raises worries about a successor as he departs. He can be proud of the wonderful career he has had.
Sri Lanka Cricket chief executive Ashley De Silva said: "We respect and support Rangana's decision even though his retirement will be a big loss for Sri Lanka Cricket. We wish to thank him for the invaluable contribution he has made to Sri Lanka Cricket."
Sri Lanka wicketkeeper-batsman Niroshan Dickwella added: "It is a massive blow for us. He is the best left-arm spinner the world has ever seen.
"I consider it as a privilege to have played with him. He is a legend. I am proud to have kept wicket to him and played under him."